Cabin, August 2021
After missing a year I was back to coming up in August. This time I came up from a birthday party in Port Austin and Jon was planning to come up for part of the trip. In all I was at the Cabin from 09 August to 18 August.
Monday, 09 August
I drove up from Port Austin, so, once again, did not drive over night. At the turn off from M-77 I once again saw a nice looking sign welcoming me to "Seney Heightz". I had seen this on the previous trip so I stopped to take a picture this time. I have no idea why it is here or what it means.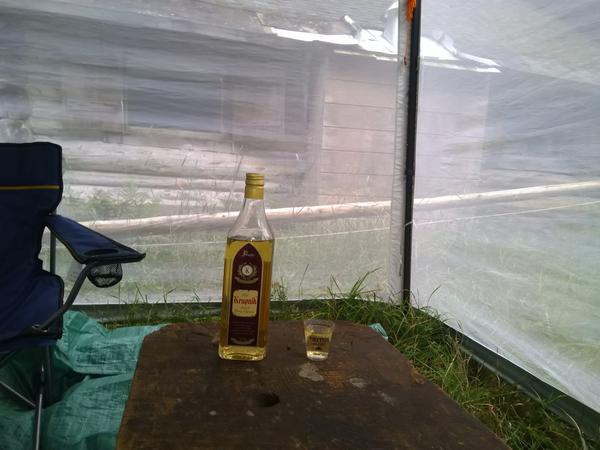 I arrived and set up as usual. The mosquitoes were still out in force so I set up the canopy for my usual shot of krupnik. For the most part I just got the camp opened up and set up my hammock. I had gotten a longer strap from Mike so I was able to set up near the creek instead of behind the bunk room as I had been doing. It was rather hot so I did not do too much after setting up.
10 August to 12 August : Hikes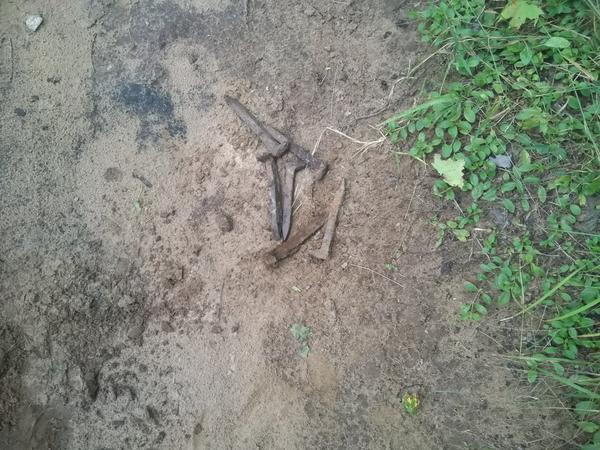 The weather remained quite hot. On Tuesday, 10 August I just stayed around Camp. Wenesday, 11 August was also hot, but I went out for a hike anyway. I explored the trails on the other side of McCloud grade. I have been there before, but there are many grassy trails, not all of which were on the map (they are now). This involved hiking up to the right from the fork off of McCloud grade. On snowmobile trail maps this is still marked as 443, even though it has not been used as such for a number of years. I call it "old 443" now. This must also have been an old railroad since in one location I found about a dozen railroad spikes! This is by far the most found on one trip. Of course it happened at the beginning of the trip so I had to haul them with me the whole time. For the most part I just hiked the trails, trying to travel ones that were not on the map. Despite the heat I still managed to hike about 7 miles.
On Thursday it was still rather hot, but I went out hiking again anyway. I again went to the same trails since there were many more left to explore. I went further than the day before, hiking at least 8 miles.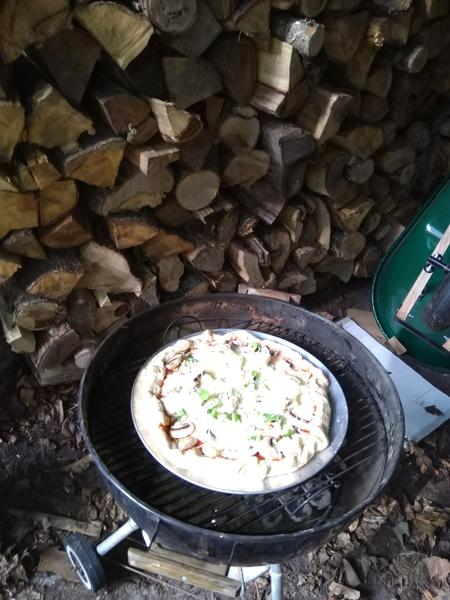 For dinner I made pizza. I thought the oven was still out of commission so I cooked it on the grill. It came out fine, however, only later did I learn that the oven had actually been fixed by Bill on a previous trip.
Friday, 13 August
Jon was able to come up for part of the trip. This was the first time in quite a long time that I have had the opportunity to spend time with him. Little did I know that he had a big project planned!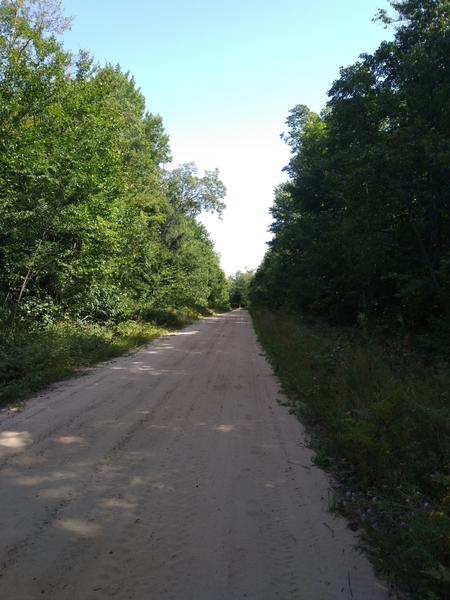 Jon had planned to arrive in the evening so I set out for an afternoon hike. Shortly after starting up McCloud Grade, I saw a pickup driving towards me. It turns out Jon had left early and arrived much earlier than expected.
Project: Phase I
The big project was to finally fix the well. For many years we have not been able to get usable amounts of water out of the well. It had become necessary to haul in all the water we would use, including water for cleaning. Though we have been bringing in drinking water for quite a few years, not having water for cleaning was a problem. We did not know the issue; speculations ranged from it having dried up to the point being clogged, and everything in between. Numerous ideas to fix it were considered. In fact, the original plan was to try to clean out the point with vinegar (a standard maintenance procedure). As usual, Jon had much bigger plans: pull the old point and replace it!
Jon brought the needed tools, in particular the farm jack. This worked great. Once we got it started, the pipe came up with surprising ease. We carefully pulled it up, making sure we did not drop anything back down the hole (in particular the pipe itself). In the end we found that the issue was the simplest one: the point was completely clogged. There is no way we would have been able to clear it. The well has been unmaintained for at least 25 years, and probably much longer. It is amazing that it worked as long as it did.
There was plenty of water in the well. We expected that driving in the new point should lead to a working well. However, we also decided to replace all the pipe so had to wait to head into town and get another section from the hardware store. We were excited and optimistic, but time would tell if we would have water again or not.
Saturday, 14 August
Saturday started with very nice weather, cooler than the previous days. As excited as we were to see if we could get the pump working again, we took advantage of the weather to go out hiking. We again hiked on the other side of McCloud Grade, found some more railroad spikes, mapped some more roads, and found some small lakes. Dinner was cooked over the fire and capped the day.
Sunday, 15 August : Project Phase II
The weather got hot again so it was a perfect time to finish working on the well. After heading to town and getting two more sections of 5 foot pipe (fortunately already cut and threaded, not sure they would have been able to cut and thread it for us), we were ready to put in the new point and pipe. It started easily with the pipe going down the old hole. We again very carefully put it in making sure to not drop it. At some point it got stuck so we had to drive it in the rest of the way. Again, Jon had a driver so it went pretty smoothly.
Once we got it in, we hooked up an electric pump. This pump had been brought up by Jon a few years earlier with plans to use it to pull water more easily. At the time we were only getting a slow trickle from the hand pump and were hoping to get more with the electric pump. It had not worked: the electric pump could not pull the water. It was suggested at the Gentleman's weekend at the time that the pump was not strong enough to pull water the required height. That was far from the truth. In fact, the pump could not pull water through the clogged point! It is hard to describe the euphoria as water came streaming out of the hose after the pump was hooked up. The pump easily pulled gallons and gallons of water. We filled 5 gallon jugs in no time.
The hand pump worked extremely well too, almost too well. So much water comes out so fast that it splashes all over the sink area. A back splash is going to have to be installed to protect the cabin wall. We did not try drinking the water as we want to test it to make sure it is bacteria and lead free.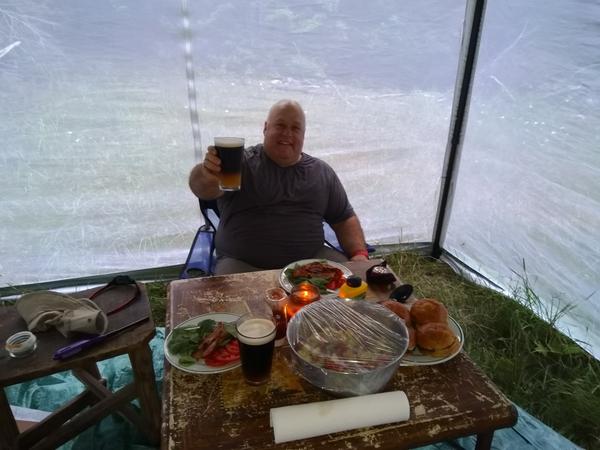 Dinner of burgers and beer completed the day.
Monday, 16 August
Monday was another warm day. Even so, we went out for a hike again, heading to the Barfield Lakes. The ridge between two of the lakes is one of the most beautiful places to hike to nearby the Cabin. It was particularly good on this day since there was a nice breeze that made it comfortable to sit there and enjoy the scenery.
We took it easy for the rest of the evening. It did include one bit of excitement. I spotted a smallish bear walking just north of the Cabin on the other side of the creek, heading towards McCloud Grade. I have only seen a bear a few times in the decades I have been going to the Cabin and never one so close to it. When we went up to McCloud Grade we found its tracks where it had walked across the road and back into the woods on the other side.
17 August - 18 August: Departures
Jon had planned on staying up for a day by himself, something he has not done before. Unfortunately work got in the way and he had to leave early (on Tuesday). I stuck around for another day to finish cleaning up the Cabin. Now that we had water we were able to actually wash down the refrigerator, inside and out, and give the kitchen floor a good scrubbing. It is amazing what can be done when you actually have water.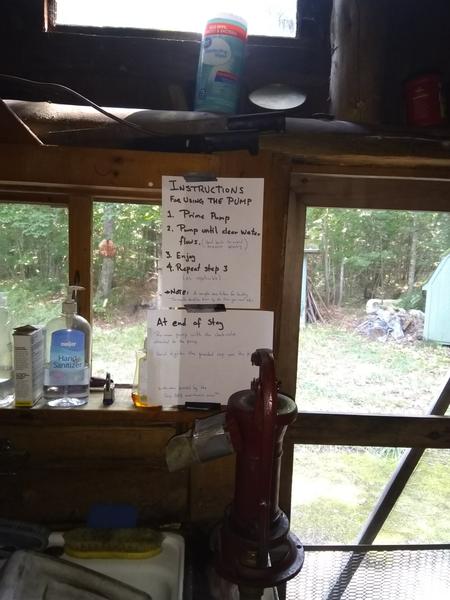 I left the next day. Since Vittoria, Bill, and Frankie were coming up for Labor Day, I left the pump hooked up and "instructions" for using the pump posted by it. Normally we do not leave the pump hooked up. However, in recent years we have not even bothered to try using the pump on most trips so I left it that way to ensure they would use it. We did not said anything about this project prior to them coming up so it was a surprise for them. The newly working well was enjoyed by them too.
As always it was a great trip. It was great getting to spend time with Jon and of course to get the well working again. Even though it was my longest trip, it went by too quickly. As usual I am anxiously awaiting my next trip up.