Cabin, August 2022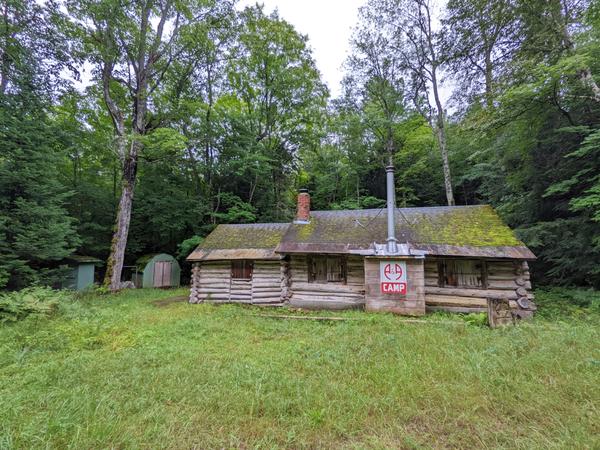 My usual summer trip was the second one of the summer. I felt a bit pressed for time so only came up for about 1 week, from 13 August to 21 August. Surprisingly the bugs were not nearly as bad as they were on the previous trip. In particular, the mosquitoes were not nearly as voracious just a month and a half later.
Overall it was a great trip, as always, though there were far too many people riding UTVs/ATVs on the roads.
Arrival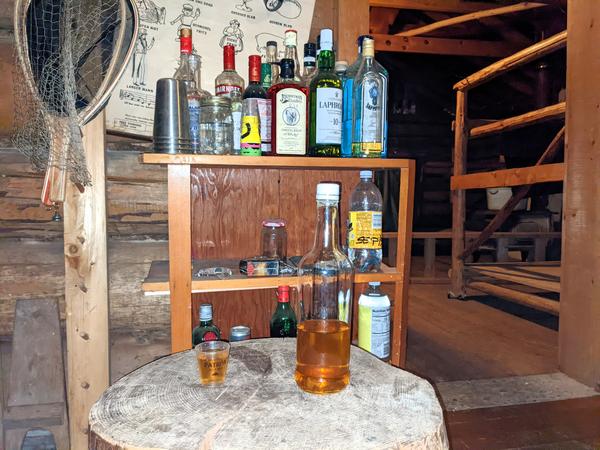 I drove up after work from Cleveland on Friday, 12 August. The drive went very smoothly. Despite leaving around 5 PM I arrived at 12:45 AM. I am pretty sure I have the departure time correct so this means the trip took less than 8 hours! This seems very fast (particularly compared to the drive back ....) Since it was a drive overnight, the traffic was light for much of the trip and the construction areas were inactive, meaning no need to slow down for most of the way.
Opening the Cabin was easy since I had "just" been there. Everything was in good shape. As usual, I set up the hammock, had my traditional shot of Krupnik, and went to bed.
Saturday, 13 August
As has become usual for me now, most of the time was spent hiking. The first hike started heading down McCloud Grade. I noticed when I drove in that McCloud Grade had been recently graded. It further seemed clear that it had also been widened in this process. The hope that McCloud Grade would become a less major road is quickly fading. Instead, it has become, and I expect will remain, one of the main roads for accessing the woods outside of Grand Marais. It is not Old Seney Road, yet, but it is getting there. On this hike it was overcast with some off-and-on light rain at times.
After getting to the end (the wide open area) I decided to get off the "main road" and followed a logging road. I ended up heading to C.O.P.S. Camp (and left a note). Again following some logging roads I came across an odd sculpture-like object in the woods. I have no idea why it is there or what it is suppose to be. I then again went up to North Lake and passed by the Clayborn's. They have a very nice, very fancy looking outhouse! Looping back on the old UP443 I found three more railroad spikes in the same spot I had found a dozen the year before. I also saw three deer during the hike. Overall this was about a 12.75 mile hike.
As a "surprise", I brought up a Camp A&A sign and hung it on the chimney box outside the Cabin. It has been a few years since we have had a sign up and, after visiting a number of camps on my hikes, I find it very good to have the name clearly advertised. I did not (and have not) mentioned it to anyone, so it will be a surprise for them when they first arrive at the Cabin. (Unless, of course, they actually look at this page.)
Sunday, 14 August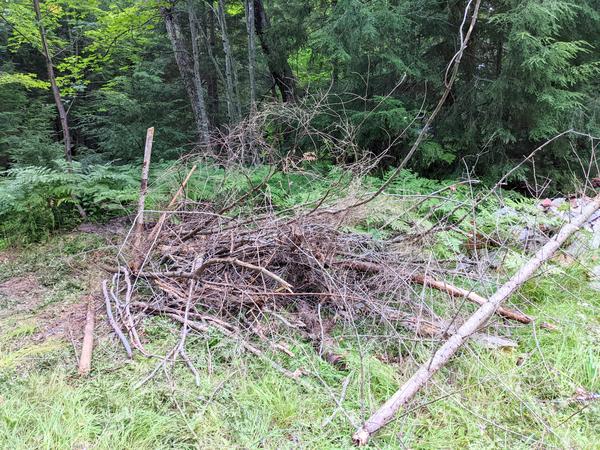 The weather on Sunday was much nicer than Saturday had been. Due to this I knew there would be a lot people on the trails, and, given the number I saw (or heard) on the slightly rainy Saturday meant that I decided to stay around camp. I spent the time doing some cleaning up around camp. In particular, I cleaned up some of the dead wood along the driveway and in front of the Cabin.
The previous Gentlemens' Weekend we cleaned up a lot of the big wood, using it to fill the woodshed. Besides all this wood, there were plenty of downed branches, and, even more so, "standing dead" trees. There were many more, mostly thin, dead trees than I had expected. They are easy to identify, particularly in the summer, since they have no leaves and are very easy to pull up, roots and all. They are also very dry and burn easily. Though there is not a big concern of fire, clearing out all this dead brush will go a long way to avoid any such concern and making the forest healthier. Yet another project for the gentlemen.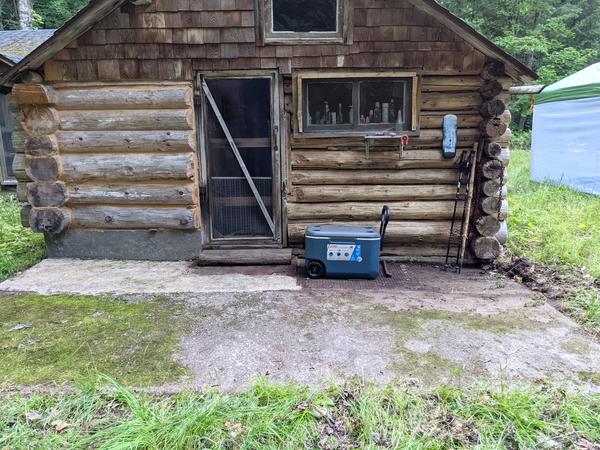 I also got a chance to do some cleaning. This included a bit inside and outside the Cabin. I usually clean out the woodshed, but it is very full of wood and there is no point in rotating it at this point: almost all the wood has only been seasoning for one year. Instead I took the opportunity to clean off the stoops. There was a lot of old leaves that had collected up, some dirt, and the grass had started to cover the cement. All of this was cleaned off.
For dinner I made dinner wrapped in foil in the coals of a fire. This has become a standard meal I make. I end up with plenty of left overs to eat over the next few days for breakfast (with eggs) and for dinner.
Monday, 15 August
Today I decided to take another long hike, this time to finally visit the camp on Mitchell lake (the lake that looks like a lobster). As usual I tried to spend at little time as possible on the main roads meaning that I spent a fair bit of time wandering on unmapped logging roads trying to find a "shortcut" to the camp. I cannot say I found anything like a shortcut, but I did explore some of the other roads, including one that appears to be a "public access" to the north west arm of the lake. Eventually I had to loop around to what is the usual road into the camp. The road in was not in great shape. Since it was dry (and because I was hiking) it was easy to get in. It appears that during wetter times it would be muddy and/or covered in water in spots. Further, there were plenty of signs of beaver activity both on the road in and around the camp. This included a number of rather large trees that were taken down and left in place.
The camp itself looked like it has not been maintained. The "pier" in the lake was ruined. What was probably a counter around the outside of the cabin had become disconnected and fallen down.
However, the location is great. In fact, even the outhouse has a nice location on a bit of a peninsula with a good view of part of the lake. To take advantage of this, the front of the outhouse is clear panes, from floor to ceiling. While I appreciate wanted to take advantage of the view, this does seem rather excessive. I cannot imagine getting such a proposal past the committee ....
The hike back took me along the old UP 443 where I found 2 more railroad spikes. In total this was about a 13 mile hike.
Tuesday, 16 August
I decided to hike the loop. A few years ago the part of the loop off McCloud Grade was blocked by bent branches. The early, heavy snow had pulled down the tops of many trees making it hard to navigate it. All of that has long since been cleaned up. The part of the loop is now a wide open road (though still full of water holes).
I first hiked the road to the east, heading up to the Sucker river. This required some serious bush whacking to get to the river. Once again it was good to do some more serious off road hiking. Even so, the brush is very dense around the river here so I came back along the road to complete the loop.
The old beaver dam that used to be easy to walk across and created a large pond behind the Cabin is no more. The beavers have been gone for many years and the dam has been slowly decaying since then. Even so, it is remarkable to see how this whole area that used to be a pond is now a meadow, full of grass and flowers. It also makes getting across the creek harder. The area is densely covered in bushes and there is no longer a beaver-made bridge to use.
I also took the opportunity to do more off trail hiking along the Sucker river. It is more wooded here so it is easier to hike close to the river. I followed a small feeder branch almost to its beginning before crossing it to the bigger branch. Here I found a nice looking pool that might be good for swimming. The river bottom is rather silty and the bank is rather steep, but it may still work.
In the end I hiked back along the road that leads up to the intersection of McCloud Grade and Old Seney. Overall this was only a 4.5 mile hike, but did involve a fair bit of off trail hiking.
Wednesday, 17 August
Another area I have always wanted to hike was by Kennedy and Newton lakes on the west side of Old Seney. I finally decided to head that way. I started by cutting through the woods to get onto the trails south of McCloud Grade. On the way to Camp Oscar I came across the old railroad axle and decaying railroad car. I had seen this years before but had forgotten it was there. (It will now be on the map!) It turns out there were people up at Camp Oscar so I looped around it further to the south to get to Old Seney and then up to Sigan Camp Road: my entry into this area I had not explore before. This would be a trend. There were people up at a number of camps so I did not get to visit as many of them as I would have liked.
I first stopped by the camp on Sigan Camp Road. This is just a camper under a wooden roof. It did not look like this camp is maintained very well. It is right off the road, but is "hidden" behind a stand of trees so has some privacy.
After following more logging roads and cutting through the woods at one point, I got onto the road between Kennedy and Newton lakes. The first camp I came across is called "Possum Lodge". I do not know if they came up with this name themselves or if it is hommage to The Red Green Show. Regardless, it is in a beautiful pine forest on the north east shore of Kennedy lake. It does not have easy lake access, but other than that, it is great.
The other camps were occupied so I stayed on the road, avoiding the camps themselves. Even so, the one on the south end of Kennedy lake has an old, large snow plow decorating the end of their driveway. I did explore a little of the southern part of Kennedy lake before finding more old roads to hike along Newton lake, again avoiding the actual camp.
I think this area would be very nice to visit on skis in the winter. Overall it was about a 13 mile hike.
Thursday, 18 August
Thursday was an overcast day that promised rain. Due to this I decided to stick around camp. With intermittent rain I decided to try driving around a bit, maybe to explore east of Lavendar Corner. However, while driving down Old Seney the sky opened up with a torrential downpour. Not wanting to drive unknown dirt roads in heavy rain, I instead got on 77 and headed into town. Yes, really.
Town had too many people in it so I did not stay long, I just drove through. Interestingly there was construction on H58 just east of Airport road. In fact, Airport road was being used as a detour: people were sent out that way, then back north on Old Seney. As I recall, that stretch used to be a very rough ride. There were even a lot of people sitting at the corner of Airport road and Old Seney. I decided to just head back to the Cabin.
However, I did see that there is now another "country club" bridge that has been constructed on Airport road. This is the twin to the bridge on Old Seney that replaced the one lane bridge.
Friday, 19 August
Another day that claimed was going to be rainy. I trusted the weather report so stuck around the Cabin again and even took a nap. I also did a little more cleaning. In particular, I mopped the kitchen floor, again. I still enjoy using all the water we have available and mopping the kitchen floor is always a positive. I decided to take down the canopy. It is somewhat leaky in heavy rain (I'm not completely sure where it leaks) and the bugs were not that bad so I could survive a day without it. Plus, it did not actually rain so the canopy was dry and could be packed away.
There is a red squirrel that has been hanging around the Cabin for the past few years. I expect it comes in at times, though that did not happen on this trip. Instead, I found that it likes to run along the Cabin, stopping at the corner of the main Cabin and the kitchen, and chewing on one of the logs. I do not know why it would do this nor why at this spot, but I did "catch" it doing this a few times.
Saturday, 20 August
Despite it being the weekend and there being a lot of people in the area, I decided to hike out to the Barfield Lakes. Along the way I took the trail up to the Sucker River. The turn off and an open area just before heading up to the river were marked with tape for some reason. The lakes were great. Unfortunately, shortly after arriving a couple of side-by-sides showed up with a large group of people planning on having lunch. It is a beautiful and popular spot. The people were nice enough, but I decided to head out. I had thought about doing some more exploring in the area, but instead just headed back to the Cabin.
It turns out that this was a good idea. Just as I was getting back to Old Seney the skies opened up again with another torrential downpour. While walking up Old Seney in the rain I came across a couple driving back from its end where they claimed to have been looking for some old "Indian mounds" that were supposed to be there. I have been down there many times (including on this trip), I have never heard of such a feature, nor have I ever seen anything that would make me think mounds were there. It does not seem likely to me. Overall this was only an 8 mile hike.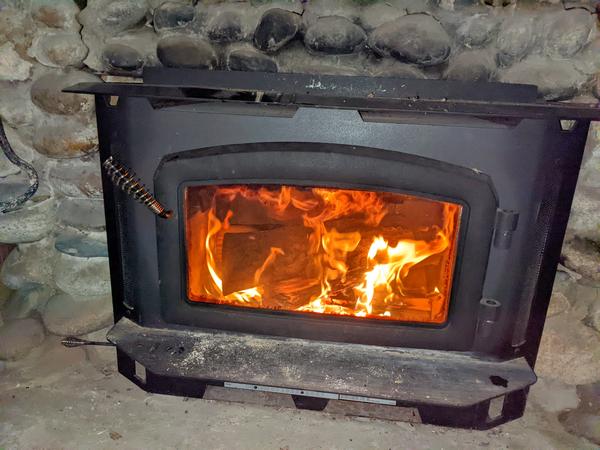 I arrived back with wet clothes to a damp Cabin. Even though it was warm, I got a fire going in the insert to help dry off my clothes and dry out the Cabin. With the windows open it did not get too warm. As always, it was nice to sit and watch the fire, even when it is not needed for heat.
Sunday, 21 August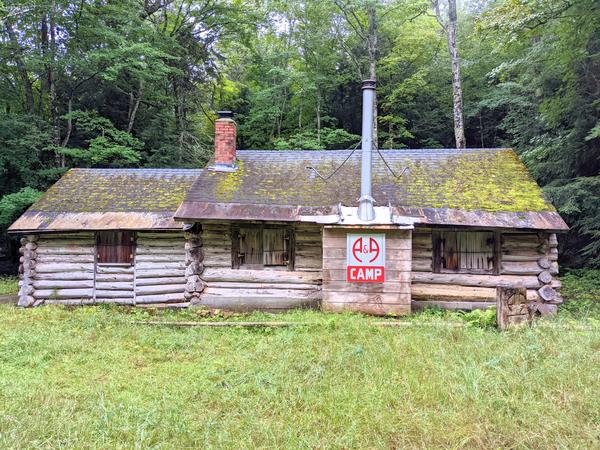 Unfortunately I had to depart on Sunday after a shorter trip than I would have preferred. I had packed up most things the night before so it was easy to close up the Cabin and hit the road. As always it was great trip and I was able to get a good amount of exploring done. I am already looking forward to the next Gentlemen's weekend.
The drive back was far more tedious than the drive up. Besides the traffic (a flaw of driving during the day) there was yet more rain. On the OH turnpike it rained very hard making for very slow driving. The drive back took a good hour longer than the drive up!